Ready to Talk to Your Parents About Retiring?
Here's how to help them get ready for retirement without derailing your own plans.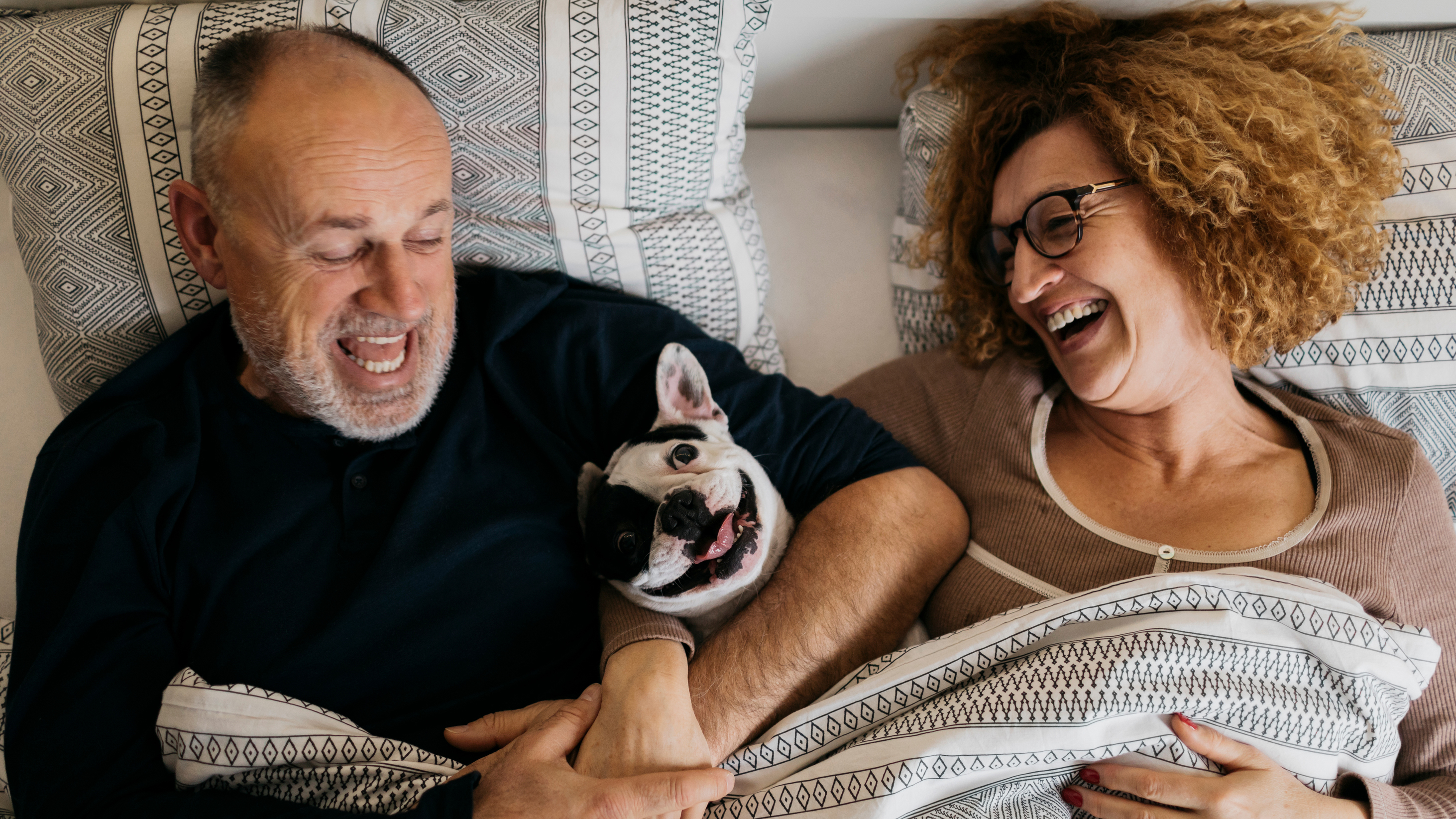 Putting the necessary financial plans in place so your parents retire comfortably may take some time, but they will be worth it.
The Squeeze
Over 75% of Americans are "extremely" or "somewhat" concerned about affording a comfortable retirement.
Talking to your parents about their financial situation now rather than later will save you — and them — a lot of stress in the long run.
Downsizing may be the key to freeing up your parents' finances and getting them on a path to reaching their own retirement goals (and yours).
Imagine your parents are two to three years away from hanging up their work hats. They've saved up a nice little nest egg but aren't quite sure it's going to last forever, and their health, while fair, will likely require a more robust (and expensive) healthcare plan down the line.
Oh, and that two-story, 3,000-square-foot Colonial you once called home is now a beast to maintain — for them and for you, whose visits are increasingly centered around helping out with repairs and chores.
Sure, it's a perfect time for Mom and Dad to start meeting with the financial advisor, signing up for retirement Q&As at work, and thinking about future plans. But what if they've done zilch? As with all of us, dealing with major life events like retirement can be daunting for them — plus, your parents may be worried that there's not enough money saved.
They are in good company. According to data from Northwestern Mutual, 78 percent of Americans are "extremely" or "somewhat" concerned about affording a comfortable retirement. What's more, two-thirds of us believe it's likely that we'll outlive our retirement savings.
While experts recommend getting your financial affairs in order before you turn age 50, a recent Merrill Lynch and Age Wave report finds that more than half of us worry that our lack of proper planning might leave a mess for loved ones. In fact, only 18 percent of those 55 and older have a will, a healthcare directive, and a power of attorney, the study found.
The good news is there are several ways you can help your parents — and yourself — get their financial ducks in a row to enjoy their golden years. Here's how.
Have the money talk
Both money and aging are sensitive topics. Put them together and you have a minefield. Introduce the subject of your parents' future retirement plans in person using a calm, rational demeanor. Try framing "the talk" with a statement like "One thing I'd like to know more about is…"
Then follow that smooth delivery with questions like:
What are your retirement plans? Do you feel confident you are on track?
What type of insurance coverage such as life, health, and long-term care do you have?
If you were unable to stay in your home, where would you want to go?
Could you afford your household expenses if you were suddenly living alone?
Are you working with a financial planner or an investment advisor?
Have you completed an estate plan?
Explain that your goal is to understand their wishes, not take control. Ideally, this won't be a one-time discussion. Ask often about their plans and volunteer to assist with any concerns.
Crunch their numbers
Now that your parents are a bit more at ease, sit down and analyze their savings and investments. Specifically, take a look at the following financials:
Their guaranteed sources of income (as in, Social Security or a pension)
Their monthly expenses
Their assets
Their liabilities
Their 401(k) or IRA savings accounts
Their mortgage balance or monthly rent
Their other investments like an investment portfolio or rental property
There are typically two ways to calculate how much your parents will need during their retirement years. Financial advisors tend to estimate that retirees will need 70 percent to 80 percent of their pre-retirement gross income. If that number is too high, sit down with your parents to create a realistic budget.
And if your parents need a second opinion on their retirement plans — especially, if they are deciding whether to take Social Security benefits early — then bring in a professional. Help them consult with a financial advisor if they don't already have one.
Trim their expenses
Many retirees spend their entire lives looking forward to retirement, only to feel the squeeze of living on a fixed income. But they don't have to give up the things they love. Try these strategies to whittle down expenses without sacrificing their quality of life.
Sell a vehicle.
Eliminate vices like drinking, smoking, and fast food.
Ditch the landline.
Use senior citizen discounts.
Choose the right Medicare plan.
Reevaluate their insurance policies.
Be more energy-efficient.
Seek out free entertainment.
Comparison shop.
Get out of debt (more on that later).
Downsize their housing
Bigger is often better, but downsizing may be ideal as your parents near retirement. It's a chance for them to transition into a smaller home and save on the expenses associated with a larger space. Break the ice with these questions during your next retirement planning chat.
Do you think you would enjoy living in a smaller home that's easier to maintain?
Would you like help to declutter your home and donate some items to a local shelter?
If you could lower your housing costs, what would you enjoy buying?
Run the numbers
Help them to determine how much a move to a smaller home would save them over time. Be sure to factor in their mortgage, property taxes and insurance, housing-related expenses, and the cost of moving using calculators from sites like Moving.com.
Do relocation research
Volunteer to locate an ideal retirement spot using a new U.S. News analysis that compares the 150 of the largest metro areas in the country based on housing affordability, happiness, desirability, retiree taxes, healthcare, and the job market. Also, consider active 55 plus communities with lots of amenities minus the maintenance.
Ask them to move in
If your parents can no longer afford to live solo, assess their health and your current lifestyle, then speak to other household members to determine if moving in with your family is feasible.
Leverage their extra funds
Once they are in their new home, suggest they use the extra funds to do the following.
Attack Debt
If your parents are working hard to dump debt, downsizing is one way to boost that intensity. Let's say they owe $30,000 on a grandchild's student loan with 6 percent interest, for which they are currently paying $500 per month. Throwing an extra $500 a month on that loan will slash the payoff date by three years, plus they'll save 55 percent in interest!
Boost Retirement Savings
Once they are debt-free with a fully-funded emergency fund of three to six months of living expenses, have your parents focus on building wealth. Experts recommend investing 15 percent of their household income into Roth IRAs and pre-tax retirement plans. The maximum Roth contribution for 2021 is $6,000, plus $1,000 if you're 50 or older by the end of the year per IRS rules. The catch-up contribution limit for 401(k) participants is $6,500 for 2021, on top of the standard $19,500 limit.
Pay Off the Mortgage
Now that your parents are flush with cash after the sale of their home, they can use that moolah to pay cash on the next house. Not realistic? They can get a 15-year fixed-rate mortgage, which is averaging 2.37 percent according to BankRate.com. At 3 percent interest with 20 percent down, they could pay off a $300,000 mortgage in 10 years by paying an extra $245 a month on the principal. That's a savings of over $94,000 over the life of the loan. Boom!
Helping your parents prepare for retirement boils down to good communication. Having these conversations and putting the necessary financial plans in place may take some time, but they will be worth it.
About the Author
Award-winner Tanisha A. Sykes—the entrepreneur's brand strategist—helps small businesses pinpoint and build their audiences, clarify their mission, and unleash multiple streams of income through custom content. Sykes is also a writer, editor, and researcher for publications such as Vogue, Cosmopolitan, USA Today, Essence Magazine, AARP, and Diversity Woman Magazine utilizing skills she's honed during two decades as a nationally noted business and personal finance journalist.
View more by this author →